BIOGRAPHY
Khoren Der Harootian was born in Ashodavan, Armenia, in 1909. He came to the United States with his mother and sisters in 1921 after witnessing the tragic scenes of the Armenian Genocide. His father, a priest, and 22 relatives were massacred by the Turks.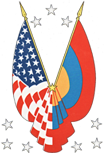 He lived in Worcester, Massachusetts, and began to paint while he was still a high school student. After finishing his studies, he moved to Jamaica to paint, and become fascinated with sculpture, primarily carving in the islands native hardwoods. Der Harootian visited London in 1939 and had his work exhibited in group shows. He later returned to Jamaica and devoted the next four years to carving.
Der Harootian came back to the United States and had his first one-man show of paintings and sculpture at the Kraushaar Gallery, New York, in 1945. From then on, working in his New York Studio, he concentrated on sculpture in stone and marble. Since then, his work has been widely exhibited and acquired by museums and private collectors throughout the world, and he received several monumental commissions.
He spent 1962-1963 in Italy exploring new forms and realizing new conceptions for casting in bronze. These sculptures and drawings were exhibited in the Gallery of the United States Information Service in Florence, and a comprehensive one-man show of his bronzes, stone carvings, watercolors and drawings was held in 1964 and the Zwemmer Gallery, London. Der Harootian's sculpture was also represented in the Royal Academy Annual Exhibition in London, and from there went to the Royal Glasgow Annual Exhibition in Scotland.
In 1965, Der Harootian had a one-man exhibition of his bronzes, stone, and wood carvings, watercolors and pastels at the Armenian General Benevolent Union Gallery In New York. He had a one-man show of his work at the Contemporaries Gallery, New York, in 1967. He traveled to Paris in 1971 to be present for his one-man show of sculpture, watercolors and drawings held at the Bernheim Gallery.
While Der Harootian was still in Europe, he received an invitation from the Committee for Cultural Relations Abroad in Yerevan, Armenia, to exhibit his work at the Artists' House and Gallery.
He was commissioned by the Philadelphia Bicentennial Committee in 1974 and created a 22-foot bronze sculpture of "Meher." His work stands in front of the Philadelphia Museum of Art and was unveiled during Armenian Americans' "Thank You America" commemoration.
In 1983 Der Harootian donated the majority of his work to his beloved Armenian people.
Khoren Der Harootian passed away February 1991 due to an unforseen car accident in New York.
This website was built on his 100th birthday in order to continue his legacy.